Cosmetic Dentistry in Miami Beach & North Miami Beach, FL
The practice of dentistry encompasses an amazing array of services and procedures, all with a common goal: to help you to preserve your natural teeth as long as possible, ensure your oral health, and keep you looking and feeling great throughout life.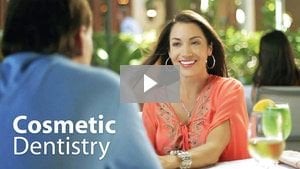 There's so much that can be done these days to improve the appearance of a person's smile — at any age. From powerful, professional whitening treatments to amazingly realistic porcelain veneers to state-of-the-art dental implants, there's a wide range of exciting possibilities.
The first step in any smile makeover is a thorough dental examination to make sure that your cosmetic problems really are just that, and not a sign of underlying dental disease. Once your health has been established, your smile can be cosmetically enhanced in a variety of ways.
Cosmetic Dentistry Procedures
Modern dentistry offers a wide range of services to make sure your teeth stay healthy, function well and look great. These procedures include:

Cleanings & Oral Exams, to keep your teeth and gums healthy, and catch early signs of dental disease
Cosmetic Bonding, to repair small chips or cracks
Crowns & Bridgework, to replace large amounts of lost tooth structure and/or missing teeth
Dental Implants, for the longest-lasting tooth replacement available today
Extractions, to remove unhealthy teeth that cannot be saved
Fillings, to restore decayed teeth
Inlays & Onlays, to fill teeth with larger cavities
Invisalign Clear Aligners, for highly discreet orthodontic treatment
Oral Cancer Screenings, to detect a dangerous disease that can be cured if caught early
Orthodontic Treatment, to move teeth into the right position
Porcelain Veneers, for repairing larger chips and cracks, and reshaping teeth
Removable Dentures, to help you smile again
Root Canal Treatment, to rescue diseased teeth
Sealants, to help prevent cavities
Teeth Whitening, to brighten a faded or discolored smile
TMD Treatment, for pain in the jaw area that can interfere with biting and chewing
Tooth-Colored Fillings, for a completely natural, healthy look
Tooth Decay Prevention, so you keep your natural teeth as long as possible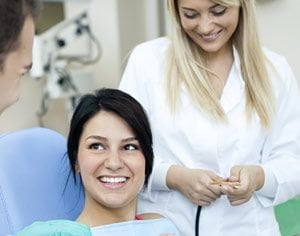 Your Smile Makeover
The most important job you have as a member of your own smile makeover team is to communicate exactly what you don't like about your smile and how you'd like it to be different. Before the first consultation, give some thought to the following questions:
1.What do you like or dislike about the color, size, shape and spacing of your teeth?
2.Are you pleased with how much your teeth show, both when you smile and when your lips are relaxed?
3.Do you want teeth that are perfectly aligned and a bright "Hollywood White," or would you prefer a more natural look with slight color, shape and shade variations?
4.Would you like more or less of your gums to show when you smile?
It is extremely helpful for you to bring in pictures you have collected — of smiles you like, smiles you don't like, and/or photos of the way your own smile used to look, if that's the result you're aiming for. Now is the time to get started on creating a smile that will make you feel as good as you look!
RESSLER, HIRSCHL & LELCHUK, DDS, PA offers top-quality cosmetic dentistry
services and treatments at their dental offices located in Miami Beach and North Miami Beach, FL. Call our
Miami Beach office at (305) 532-1444 or our North Miami Beach office at (305) 949-2630 to schedule your appointment today!